Our Andalusian Broodmares
"ANNETTE"
 
"Annette" is our 11 year old imported pure spanish andalusian mare. She's double registered in the IALHA and the Mexican registry. She's a big bodied mare who stands at 16hds. She's got a great personality and beautiful movement! She's broke to ride and hopefully will soon be entering the show ring. Annette is a great broodmare! She has thrown us three big beautiful colts. One of her colts,
Milagro
, was sold to a vet in Canada. One of her colts, 
Trebol
, was sold within a week of being born, and her other colt
Santi
was sold before he was even born. Annette was shown and came up as reserve champion in 2008. 

*** We are sad to announce that we lost Annette during pregnancy in 2013. She will be greatly missed! :( ***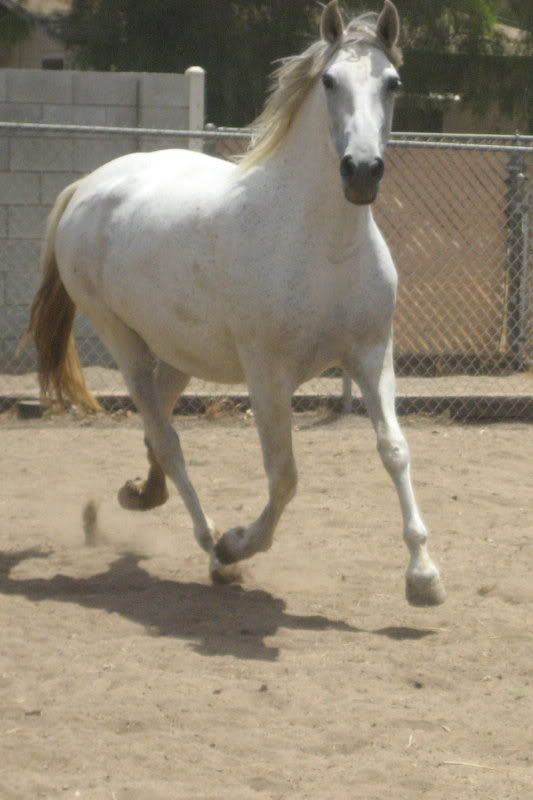 "DIANNA"
"DIANNA" originally came to us from Wisconsin where we were lucky enough to snatch both her and her yearling filly ARIA as a package deal. This mare has had a lot of extensive training. She's had some dressage training and is phenominal to ride. I've got her doing trail trials, drill team, tons of trail and even a little gymkhana. This mare is extremely athletic! We are lucky to have her apart of family. She's safe and easy for anybody to ride.  
**We sadly lost our precious "Dianna" at the end of 2010. She foundered on us and after several weeks of battling it out we decided to put her down. She was an absolutely amazing mare and we will sadly miss her. She did gave us an extremely handsome bay colt on April 1st "DANTE" and a beautiful purebred filly ARIA!**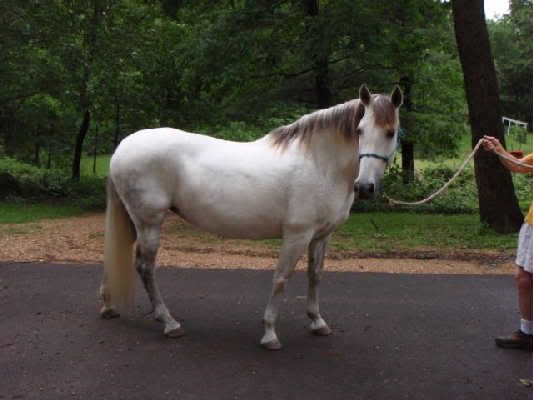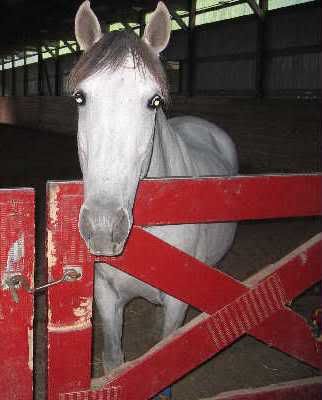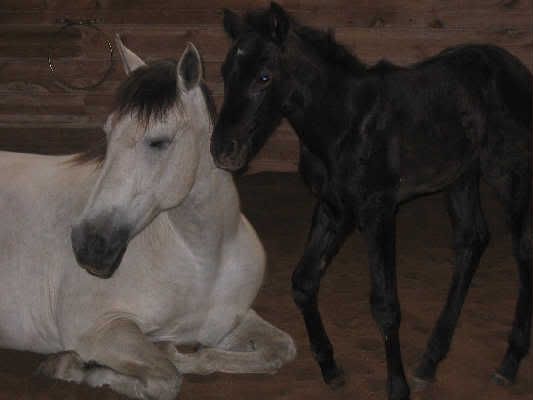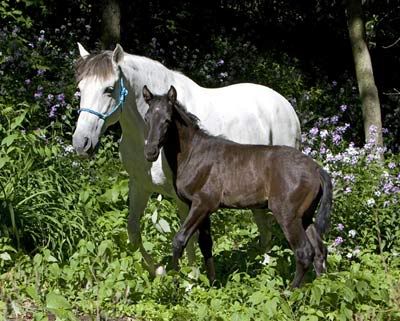 "ARIA"
"Aria" is a 7 year old (April 2007) purebred Andalusian filly. She is out of our mare DIANNA and the pure Spanish Andalusian stallion LEGADO. She's a big beautiful mare who already stands at 16 hds solid. We bought Aria as a yearling filly and we are pleasantly surprised with how amazing she's turned out. She's such a sweetheart and is extremely easy to work with! This is the most laid back, easy going mare we have on the ranch. It is her turn to start competing this year and she is actually at the top of class in the Future Champion category! She has given us a beautiful purebred Andalusian filly this year out of our PRE stallion Chago.  :) We thought about selling her but have decided against it seeing how nice of a horse she's turned out. We are lucky to have her apart of our family.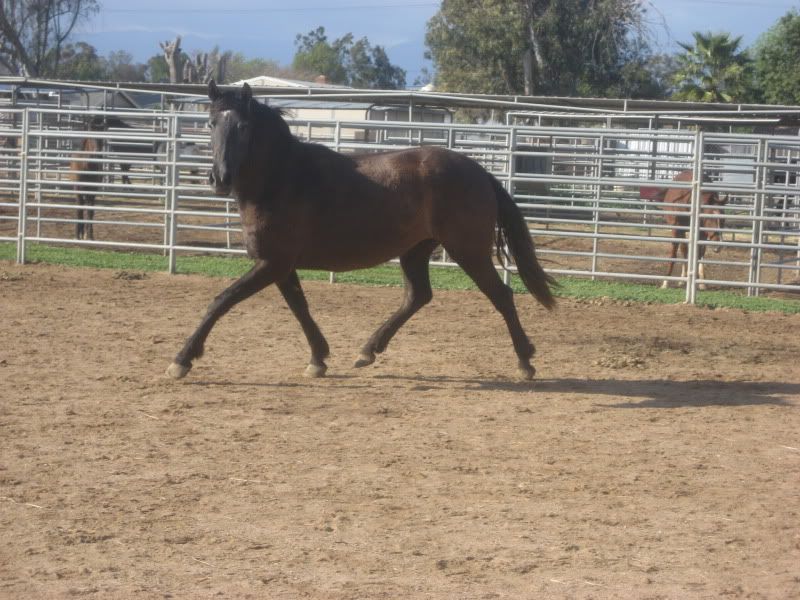 "MUNECA DE NATALIA"
"Muneca" is our 14 year old half andalusian half Lusitano mare. Mune is technically considered a purebred Andalusian as she was pasture bred out in a big Andalusian farm in Bakersfield. Due to family problems with the ranch, nobody knows who her father was, which is why she is registered with only half Andalusian papers. We're hoping things eventually get figured out so we can get her registered as a purebred, but that doesn't change the fact that she's an amazing mare. She's stunningly beautiful and a complete sweetheart! She'll follow you around everywhere. She's been shown english in several open shows and has won her share of blue ribbons. She is one of my main riding horses that anybody can ride and enjoy. She's an extremely fancy mover. Muneca had a beautiful little filly out of a black lusitano stallion a couple of years ago,
Caridad
. She's absolutely breathtaking! We re-bred Mune to Chago for an early 08' foal and she threw us a beautiful colt! His name is
Duque
. I then gave her a year off to compete in gymkhana and she won me a saddle for first place in the AA CGA category for Modjeska Mavericks. This mare can do it all! She's also my champion hangman horse too! I then re-bred her last year in 2011 and she threw us a beautiful 3/4 andalusian filly named Mari. She's one nice filly. Mune is a forever member of our family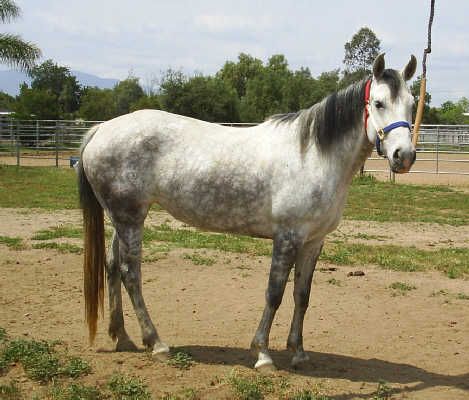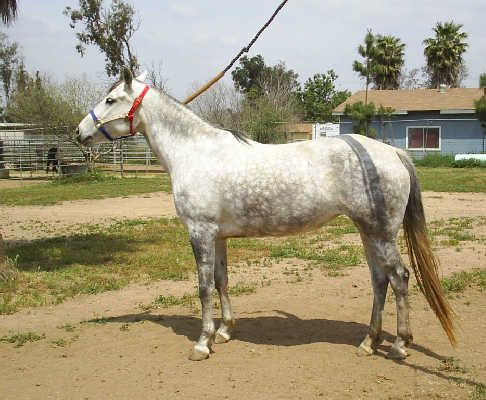 "ESTRELLA DE NATALIA"
"Estie" is our 14 year old half andalusian mare. She was our very first andalusian baby and what got us started into breeding these fine animals. She is out of a huge grey Rancho De La Torre stallion, Khellin, and one of our top producing Sugar Bar/ Doc Bar paint mares. She was born and raised right here in Norco with us and she will have a forever home here too. She has a very easy going personality which she passes on to her foals. She is broke to ride for anybody and a favorite amongst the kids. A lot of people take her to be a purebred andalusian. She's got the presence and the movement of a purebred. Estie has won me TWO saddles (200 & 2010) as the overall high point champion with our CGA riding group. Estie had a beautiful bay 3/4th Andalusian filly out of a pure Spanish Andalusian stallion FALCARIO in 2007.  You can check out her 07' foal
Dulce
. She is sooooo nice, we have decided to keep her as one of our own. We bred Estie again to our stallion Chago in 2008 and she threw us a beautiful jet black (slowly greying out) filly
Pearl
, who has been sold. We gave her a year off and then she gave us her first colt Principe who is absolutely gorgeous! We are lucky that my cousin bought Prince and he will be staying with us at the ranch!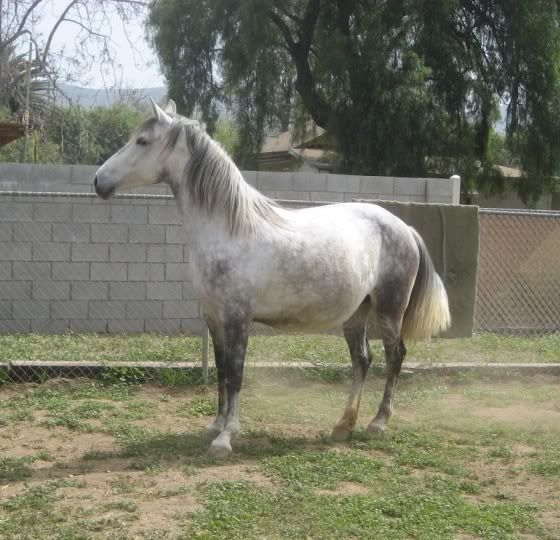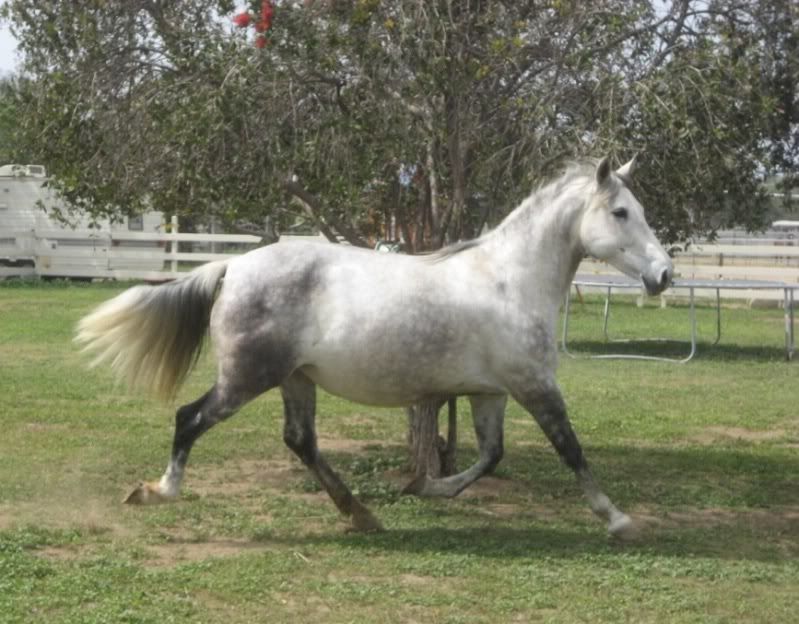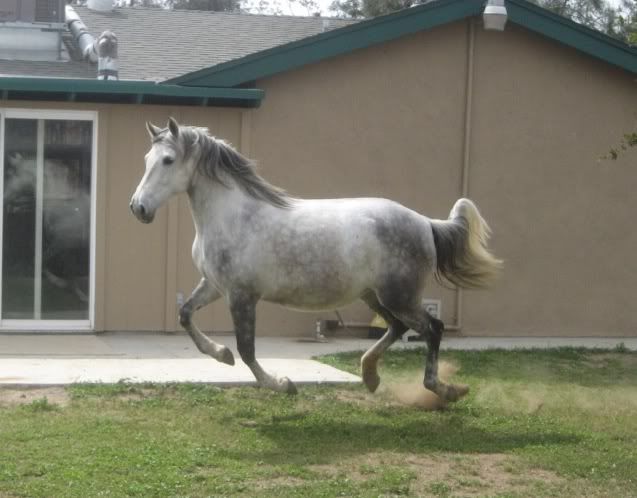 "ESTRELLA DE LA NOCHE"
"Izzy" is an absolutely beautiful 7 year old half andalusian / half Paso Fino grey and white tobiano pinto mare. She has outstanding bloodlines on top and bottem. She's been shown halter in the Andalusian circuit and as a yearling, she won reserve champion in the 2 year old and under class. This little girl has quite the personality. She's one of those horses that if you turn your back on her for a second, she'll be getting into something she shouldn't be! She keeps us on our toes, but we love her! This filly has a lot of potential. I have high hopes for her! She is going great under saddle and has become one of my all around riding horses.  We are happy to say that Izzy has foaled a beautiful little girl MILLY out of our young andalusian stallion "Milagro" (it's his first foal!) She is absolutely adorable and can be seen on our 09' foal page. Izzy is a great mother and we are so proud at how far she has come! Due to problems with her last pregancy Izzy will no longer be bred and will only be a riding mare.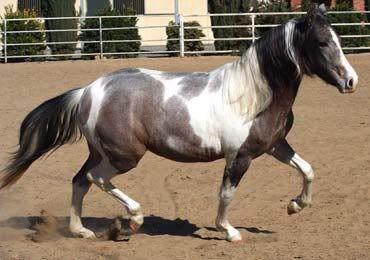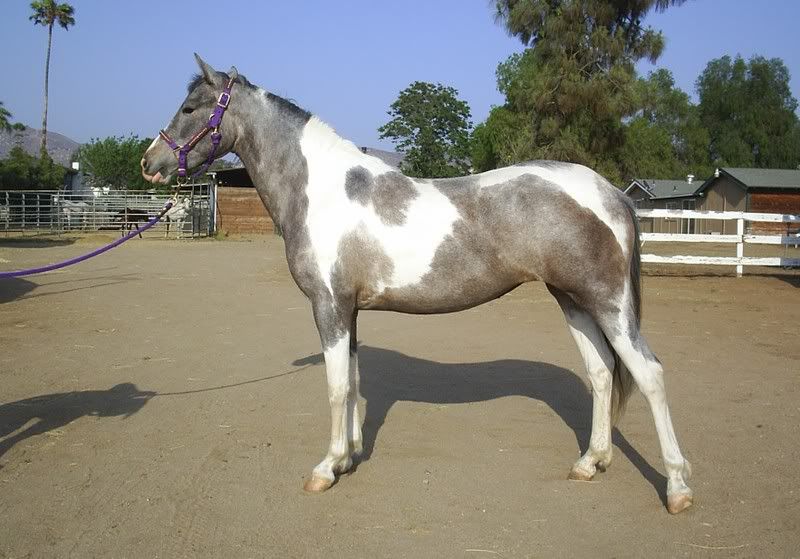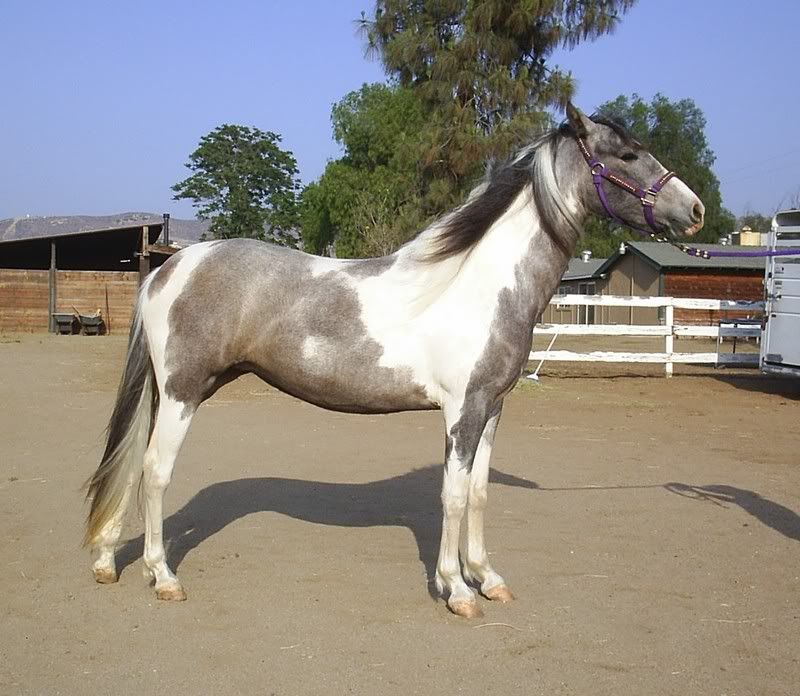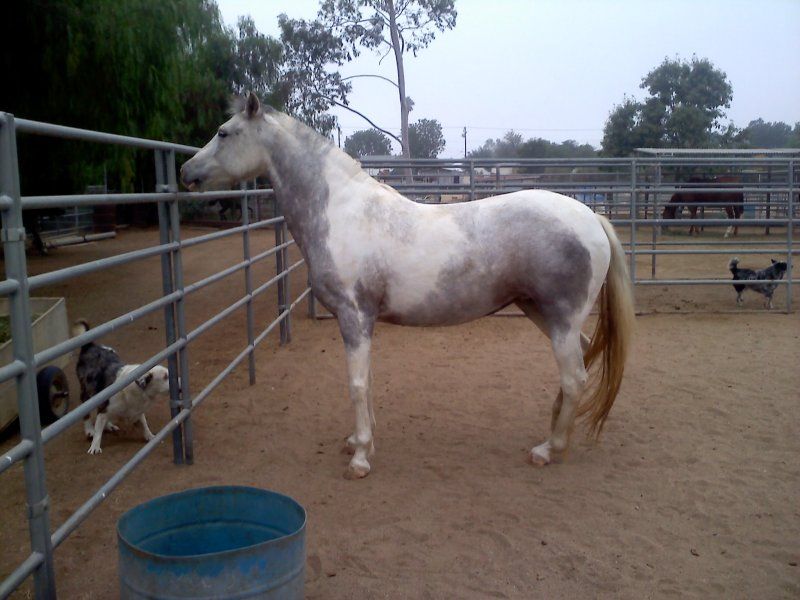 ***After much though and consideration we have decided to sell Izzy to a one horse home where she will be loved and spoiled like she deserves! She is a beautiful girl... CONGRATULATIONS to Beth of San Diego on your amazing mare!***